Regular Member
Join Date: Jan 2009
Location: Gettysburg
Posts: 1,170
Back To Top
Tonight's culinary adventure - Venison Pastrami
---
I wanted to try this recipe so that's why I really wanted to fill a doe tag the other week.
https://honest-food.net/venison-pastrami-recipe/
I deboned a hind quarter and separated and trimmed the individual muscle groups. The bigger, nicer cuts were made into pastrami. The stringy cuts I made into corned deer, which I had yesterday and it also turned out great.
I followed the recipe, with the exception of letting it dry in the fridge. I was too antsy to wait. I wanted Reubens tonight! Here is the meat going on the smoker. I again used the Amazen smoker to give it a bit more smoke. The GMG pellet smoker doesn't give a heavy enough smoke for some things. I set the smoker at 185į and put it in at 4PM.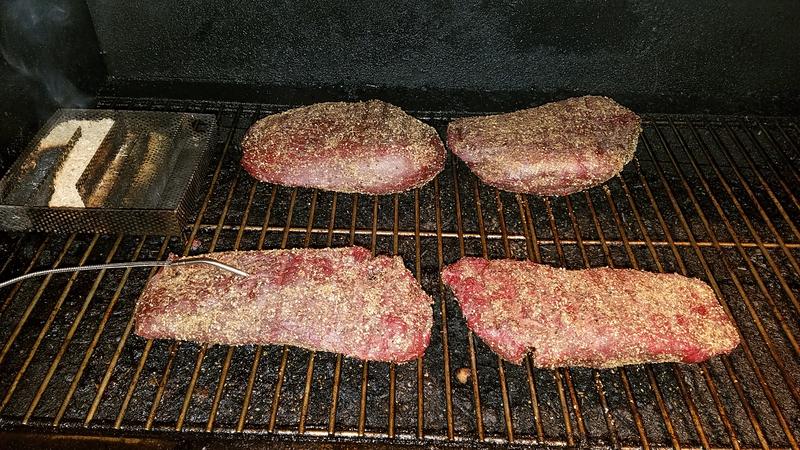 I smoked the meat until the internal temp got to 145į. It took about 2.5 hours. Here it is sliced. Had to sample it, tastes good!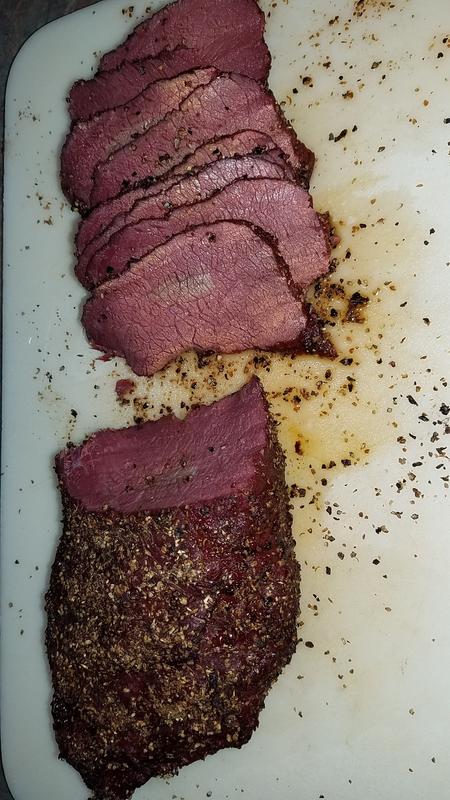 My wife fired up the cast iron pan and made a couple nice Reubens, with Rye bread, swiss cheese, thousand island dressing and sauerkraut. OMG is it good! I had to make another half sandwich!
Paired it with some baked sweet potato fries. Screw the diet. Notice the "fine China".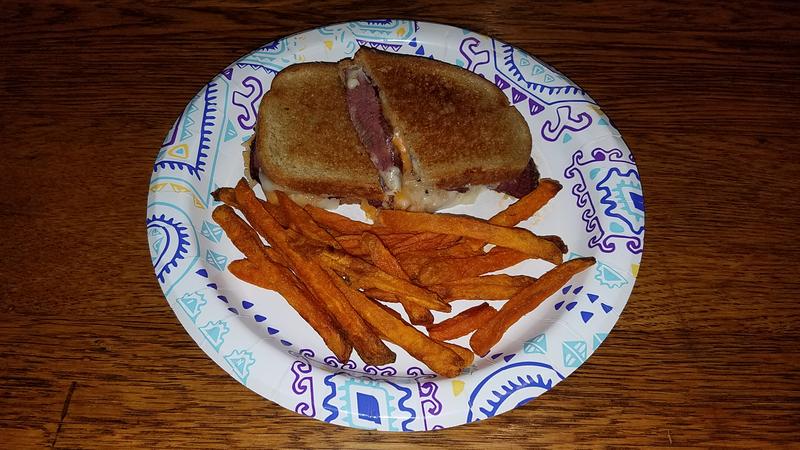 I hope to fill my last tag, or perhaps mom will and will definitely be making this again! Also, the notes in the recipe say you can use goose breast. Might have to go goose hunting here in the next few weeks.
Diehard Outdoorsman
Join Date: Sep 2019
Location: conestoga,pa/Mills,Pa
Posts: 2,702
Back To Top
looks real good and tasty . enjoy it
Hooked on HuntingPa
Join Date: Oct 2010
Location: Eastern PA 3D
Posts: 464
Back To Top
Thatís funny, Iím making the same exact thing! Same site and all...how long did you soak it in the brine?
Regular Member
Join Date: Jan 2009
Location: Gettysburg
Posts: 1,170
Back To Top
Quote:
Thatís funny, Iím making the same exact thing! Same site and all...how long did you soak it in the brine?
the pastrami is a dry rub/cure, no brine. I did it 4 days, I think, needed more. Notice the grey spot in the middle that's not quite cured thru.
Part of the Community
Join Date: Jul 2010
Location: PA Dutch Country
Posts: 244
Back To Top
I have made the Cabelas Pastrami recipe quite a few times now. It uses tenderquick. I will have to try this one next time. I like the in-depth instructions for salt and cure amounts. For the tenderquick version, 4 days seems short. I usually go 7-10. For the most part, that is long enough, but some pieces just seem to be too thick. I have wanted to add more/re-rub after 5 days to see if that makes a difference but have not remembered to do so yet. Making sure the silverskin is removed is important as the rubbed cure won't penetrate as deeply at those spots.



Now I'm hungry for some Reubens but it will be Boyertown Inn Russian dressing in this house!
Regular Member
Join Date: Sep 2006
Location: YORK, PA
Posts: 1,675
Back To Top
Really!!!!

Who puts Thousand Island on a Reuben?!?!?!🤮
Posting Rules

You may not post new threads

You may post replies

You may not post attachments

You may not edit your posts

---

HTML code is Off

---