Frequent Contributor
Join Date: Jan 2003
Location: 5C
Posts: 683
Back To Top
Savage Axis 300BO project completed
---
So I finally finished my first 300BO build and I wanted to share my experience. I have been a big fan of the 300BO since it was introduced and I wanted my first to be a bolt action to take full advantage of cost savings and sound suppression. I really wanted a used Savage/Stevens 200 action, but I couldn't find one locally, so I settled on the Axis. I did not have anything positive to say about the Axis before the project because there is no aftermarket stock available for the Axis rifles.
I went to my local WalMart a couple of months ago and the store had an Axis in 223, so I purchased the rifle. I sold off the unfired 223 barrel to recoup some of my money for the build. I had some issues when I removed the barrel nut and had to order a new barrel nut from Gun Shack. There was a bunch of metal shavings on the threads that caused my issue, but I was able to take care of that issue.
Once I had the barrel removed, my next course of action was to address the flimsy Axis stock. I didn't think Savage could offer a stock worse than the other factory stocks, but Savage outdone themselves with the Axis stock. This is by far the worst stock I've ever owned on any rifle.
With the help of Frank from Savage Shooters (tutorial) I reinforced my Axis stock. I drilled two holes and inserted metal rods. I epoxied the rods in place. I also removed some plastic material on the barrel channel to "free float" the barrel. I felt that the stock LOP was too long for my liking since I wanted the most compact rifle I could put together, so I took my hack saw and chopped off 2" off of the stock. I found a Winchester aka Limbsaver replacement buttpad (small size) that fit perfectly at Wal Mart (best price $22.xx compared to almost double online prices). I epoxied the trigger guard in place and felt that the stock was a little light compared to the front of the stock. I had an old can of Great Stuff, so I sprayed it into the stock to fill the gaps.
The final step for the stock was to use some sandpaper to rough up the stock, so I could paint the stock. Normally, I use a thermal finish such as KG Gunkote/Norrell's Moly Resin, but I knew that the Axis stock would melt if I baked it at 325 for an hour. Once again, WM saved the day, I went there Saturday night and picked up a rattle can of their camo/matte spraypaint. I choose dark brown, since they didn't have a charcoal color that I liked. I just wanted to make sure that the rifle wasn't black since black stands out so badly when using NV.
This is the work that I did to the action. The Axis trigger was terrible and there was another useful thread on Savage Shooters showing how you could lighten trigger pull with a Pilot spring and a 10-24 screw. I did that modification since I already had the Pilot pen. The trigger pull is much better than the factory trigger. I may go with a Timney or Rifle Basix trigger down the line, but the pen spring modification is working fine for now.
I removed the trigger assembly on Saturday to refinish the action, EGW base and scope rings. I went with KG Gunkote Titanium since I wanted a darker color for my 300BO. I must say that I like the color contrast of the Titanium action with the bead blasted McGowen barrel. I didn't refinish the bolt knob as I will be replacing it sometime down the road.
Build list
Axis 223 rifle $294 OTD at WM
Replacement barrel nut $18 shipped Gun Shack
McGowen 16.5" 1:8 twist $210 shipped Hansohn Brothers
EGW Axis 20MOA base $38 shipped from JoeBobs
OD green thread protector $16 shipped ebay
Winchester/Limbsaver buttstock $22.xx Walmart
Spray paint $5 WM
10-24 screws $2 Tractor Supply
Epoxy $5 Ace Hardware
Epoxy $5 Wamart
Go/no go gauges were rented from 4D Reamer Rental $18.
Freebies I had
Great Stuff
KG Gunkote Titanium
Pilot pen spring
IOR rings
Ball bearing replacement (thanks to Drybean over on Savage Shooters)
Overall, I'm very happy with my rifle. Only upgrades I am planning is if Rat offers 10rd mags, I'll be picking up a few for this rifle. I just placed my order for my TBAC 30P-1, so now the wait begins.
Threads are useless without pictures.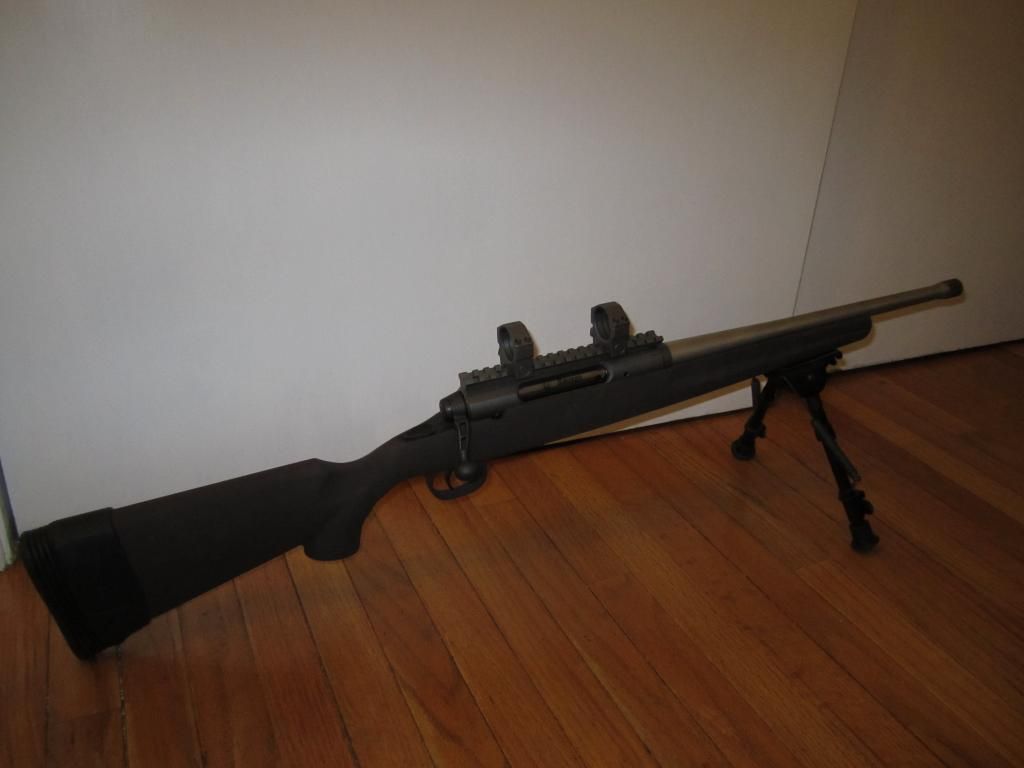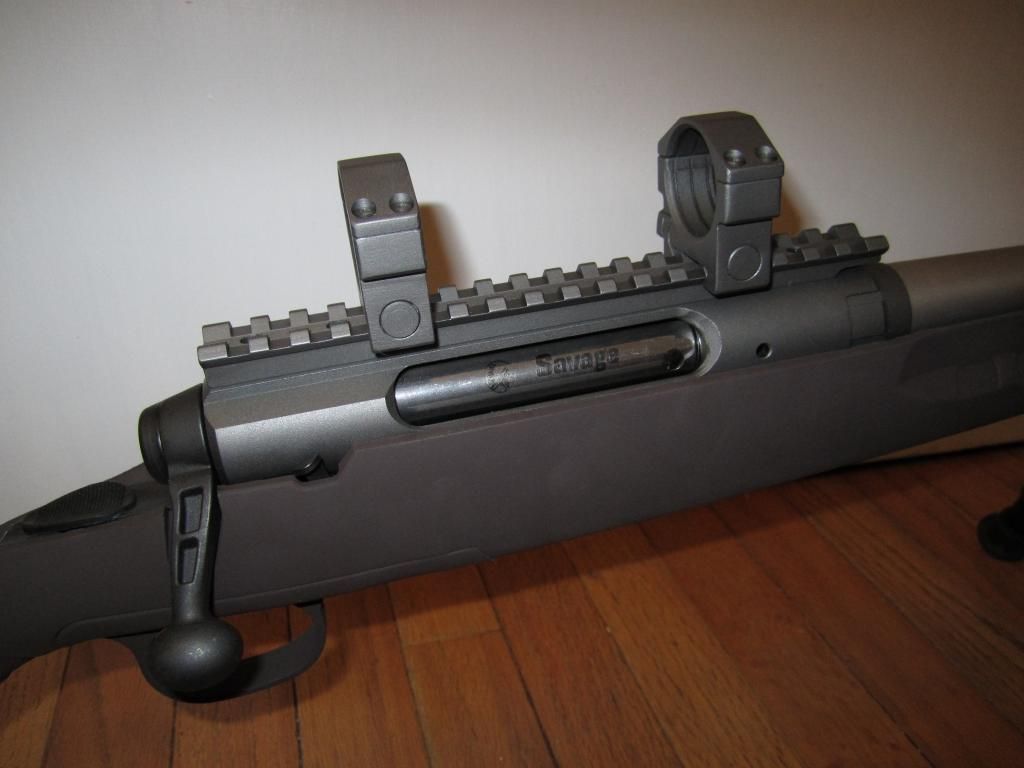 I only plan on shooting subsonics in 168gr/178gr since I have tons of these bullets. If you have a good subsonic load, please share them with me. I would also like to try 208Amax and 220 Sierras as well.
Posting Rules

You may not post new threads

You may post replies

You may not post attachments

You may not edit your posts

---

HTML code is Off

---