Frequent Contributor
Join Date: Oct 2009
Location: new brighton pa
Posts: 864
Back To Top
looking to buy a new inline 50 cal
---
I was looking to buy a new 50 cal inline muzzleloader and i am unsure what to buy. I like the new cva and thompson centers but am unsure. Do you guys think it is worth buying a bone collector or weathershield gun in the T/C or just a blued/black version and concentrating on buying a good quality optic since the blued black versions are much cheaper. Also the only difference I see is the fluted barrel which I dont think means much on a muzzleloader. I want to get 150 to 200 yd accuracy for deer hunting with whatever i purchase Thanks for your opinions
---
"Ain't Nothin Safe"
Frequent Contributor
Join Date: Oct 2009
Location: RIVESVILLE, WV
Posts: 889
Back To Top
Re: looking to buy a new inline 50 cal
---
If accuracy and versatility is really what you are after then look no farther than the picture below. Look very closely at the Knight Long Range Hunter. It is the real McCoy in a factory(non custom) inline MZ. IMO, on average the LRH will outshoot any TC. It definitely has a superior trigger. The rifles will also shoot anything you put in it. I have some TC's that shoot very well also, but they are all finicky. The Knight's are not finicky. Mine will shoot, sabots, conicals, and round balls.
I have no problem with this MZ for shots to 250 yards. With a little more work I will be extending that range. These babies will shoot.
It takes about 3 minutes more to clean this MZ over my Encore. So cleaning time is no big deal. Tom.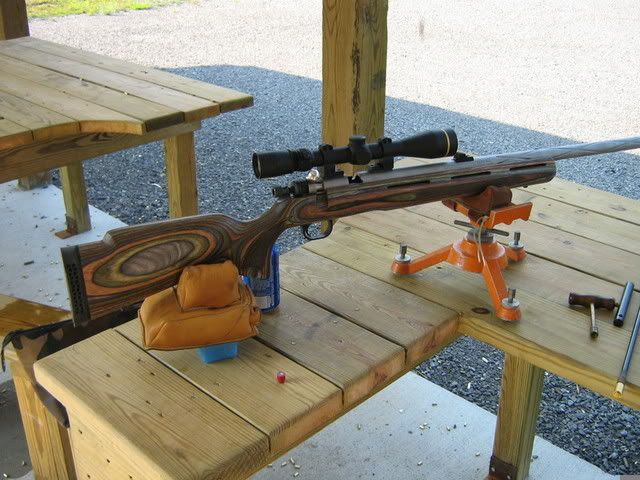 Posting Rules

You may not post new threads

You may post replies

You may not post attachments

You may not edit your posts

---

HTML code is Off

---