Regular Member
Join Date: Aug 2011
Location: Williamsport, PA / Clinton Co. PA
Posts: 1,523
Back To Top
Made some sets today (Pics)
---
Hey everyone finally got the traps cleaned and dyed ready to set and i made 5 today, only took pics of 4 of them.. i ended up using kishels triple dig it as well as kishels red fox urine on them..
i took 2 pictures of attempted dirt hole sets as well as 2 hay type sets...1 i didnt take a pic of because i forgot..
ill try to explain each photo what i had done let me know your thoughts or advice i appreciate it very much
Chris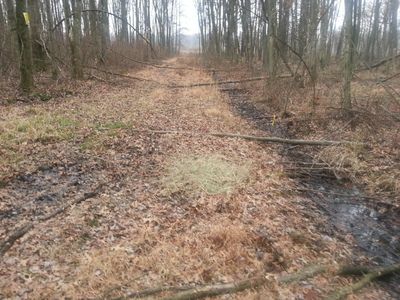 This one is on a cut through trail connecting swamp and fields.. it has some brushy type grass so i made a hay set here. i used the sticks laying there as they were.. i did not move anything at all. Water area is used as my backer and i have (2) #2 duke coilsprings double staked on this set
This set was at the end where the field meets the trail. The tree is my backer in here, my #2 duke is between the tree and the stick at the bottom of the picture.. i have it offset 8" to the right and i ended up digging a hole up against the tree after the pic (sorry i forgot til after)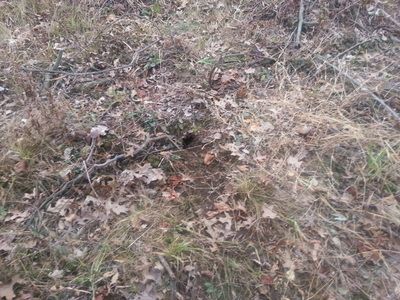 This one was a little difficult to figure out what to do, the picture doesnt do it justice but right where the hole is made is actually a clump of dirt grown up with grass. its naturally higher than the ground so i thought of putting a dirt set there.. i tried to blend it in, but looking at it better on a screen after the fact i think i could of done better
last is the hay set between me and the stick laying sideways (which was there).. i noticed the way the field was laid out the high grass to the left and right act as backers so its more of a walk through hay set combo (just ---ing now).. but i did put the urine on top of my set and some lure underneath the stick that was there..
---
The uncommon man is merely the common man thinking and dreaming of success in larger terms

Posting Rules

You may not post new threads

You may post replies

You may not post attachments

You may not edit your posts

---

HTML code is Off

---