Super Moderator
Join Date: Feb 2008
Location: In The Mountains
Posts: 24,027
Back To Top
Best Truck
---
What is the best truck you ever owned and was sorry you got rid of? Mine was a 1968 Chevy Stepside, 6 cyl 3 speed. It wasn't a 4X4 but I could go just about anywhere in it as long as I put something in the back to weigh it down. Here is a pic of it: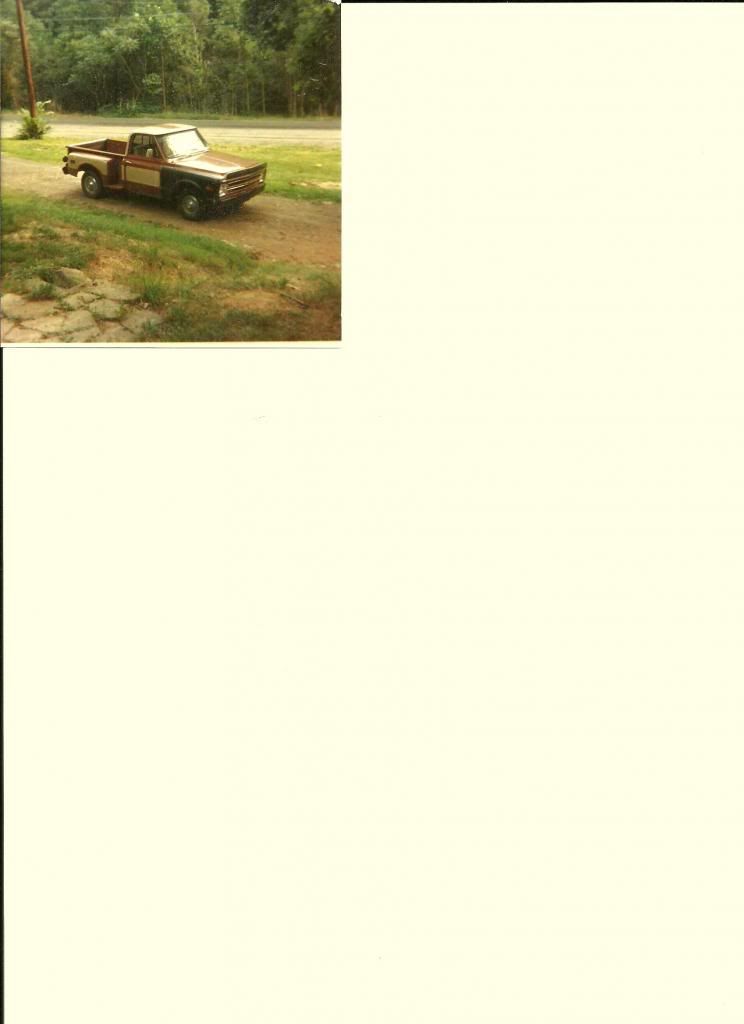 ---
My name is Moss and i'm a turkey huntin' addict
______________________________________

I'm itchin' to see a red fox twitchin!
Sage
Join Date: Feb 2002
Location: Townsend, DE
Posts: 52,307
Back To Top
Re: Best Truck
---
I think my favorite was my 95 White Chev standard body 8 Ft bed 4.3 2 WD drive.......But then I liked my 04 4WD, I liked them all.......
Regular Member
Join Date: Feb 2009
Location: Llewellyn, Schuylkill Co, 4C
Posts: 1,274
Back To Top
Re: Best Truck
---
'77 Dodge Powerwagon, shortbed with a '72 318 in it. My Dad had it for about 6 years then gave it to me....I had it for 9 years. When it finally blew up, I had 220,000 on the truck, around 265,000 on the motor.
We had to add angle-iron under the bed to stiffen it up because it was basically rotting away....I had no cab corners nor rocker panels....The side marker lights in the fenders were held in with bondo and duct tape.
But I'll tell ya'.... I'd hop in there...pump the gas 6 times, hit the key and it would fire right up. And shut right off. 2 more pumps, hit the key and that thing would purr like a kitten.
Smoked like a pig....I had anti-fouling plug adapters on all 8 cylinders. Looked like I was fogging for mosquitoes if I'd rev it up a bit.
It burned an/or leaked about 1 1/2-2 quarts of oil a day...I bought oil by the drum. Forgot to put oil in it one day and locked up the bottom end of the motor.
But parts of it still live on. I gave the rears to my cousin's husband for his '74. Gave the tranny and transfer case to the brother-in-law for his '76, Body and frame were junk.
Best, most reliable, most beat-up truck I have ever personally seen.
Then again, there was the '77 Chevy 3/4 ton with the '78 vette motor......
---
Don't let the name fool Ya!
Re: Best Truck
---
Those 292 inlines were great motors,a torque monster.
Regular Member
Join Date: Aug 2007
Location: Columbia/lycoming border
Posts: 1,881
Back To Top
Re: Best Truck
---
93 w350 dodge ram le. Cummins turbo diesel with a 5spd reg cab. Had it from brand new paid $20k for it got rid of it in 2009 for 3k with 342k miles, but rotting out bad. Only ever needed a water pump, tensioner , clutch , and the mechanical fuel pump(pusher) .plus normal stuff ,brakes, u joints axle seals drums, rotors, etc.. I could get 22-25mpg on the highway empty, and there was no computer stuff on it!
---
Anybody can shoot deer on the farm ground....You earn it in the mountains.......
Re: Best Truck
---
My favorite truck by far was my '02 F-150. It was an ext cab with the off road package and 5.4 V8. I put slightly bigger tires on it when I burned the first set off. That thing would go anywhere. It had a ton of power and was just fun to drive. Also got decent gas mileage out of it for a full size truck.
The reason it was really my favorite though was that it was like a good luck charm for me. As long as I owned that truck, I could do nothing wrong. Met my wife with that truck and just slayed the game while I hunted and fished out of that truck. I mean I couldn't even set foot in the woods and I shot something, caught tons of trout, etc. Just about brought tears to my eyes when I sold it.
Re: Best Truck
---
Our best overall truck was our 1971 C30 1Ton flat bed dump.Our best p/up hands down was our 1982 Jeep J20.That truck was a tank.
Re: Best Truck
---
Though our current 1989 S-10 is still tough and will also be a number 1.
Regular Member
Join Date: Aug 2005
Location: North Central PA 2G
Posts: 2,205
Back To Top
Re: Best Truck
---
47 Studebaker M-15A which my son wants to hot-rod. I like it with the 75 Scout running gear, 258 with an automatic and lockout hubs.
Hooked on HuntingPa
Join Date: Sep 2011
Location: Westmoreland
Posts: 283
Back To Top
Re: Best Truck
---
88 Chevy Scottsdale 3/4 ton with a 350 efi. Great truck I still kick myself for getting rid of it.
Posting Rules

You may not post new threads

You may post replies

You may not post attachments

You may not edit your posts

---

HTML code is Off

---